Top WhatsApp Dare Games in 2021 – Puzzle for Boys, Girls
Hello guys! Are you waiting for something interesting? Don't worry here we are again with the most exciting game for you. This game you can play with your WhatsApp buddies. Moreover, we call it WhatsApp dare game.
If you are searching for WhatsApp dare questions, games, messages then we have all of it for you. With WhatsApp dare games you need to ask some truth and dare question to your friends, to which they need to answer. This game is a lot of fun.
WhatsApp Dare Games in 2021
We have all types of WhatsApp dare game for you. Do you like puzzles games? We have a few great games on this. Some games you can play with the person you love with romantic questions and tasks. Ask your crush a few questions to know what he or she thinks about you. You will love the selection of dares we have for your crush. These questions include that let you ask your friends to choose a number or emoji after which you can answer that number. Let them guess the riddle for emoji puzzles.
We already described many things about What are WhatsApp dare games or questions. From that, you can now have a clear idea about how you can play these games with your friends. Join some cool groups with WhatsApp Group links list for more fun. So, let's don't waste much time and start with our WhatsApp dare game collections. Check all these unique questions and answer dare games and get the funniest reply for it from your friends.
WhatsApp Dare Games for Friends
Dare: Fill it up?
How we met:
My name on your phone:
Who I am to you:
One word that describes me:
What you dislike about me:
First impression:
Current impression
Do you trust me:
Send it to your friends and get amazing replies but reply me first ?? I will put on my story…
Answer:
If these WhatsApp dare games sent by your friends then, give them reply as given below:
Ek Manhoos din tha, tu Gaanja phoonk Rha Tha
Chutya
Chutya
Chutya
Ki Tu Bhut Chutyapanti Karte  Rhta Hai
Dekhte Hi samjh gya tha bhut bada waala Chutya hai
Abhi Bhi chutya hi hai  (Bilkul Nhi Badle)
EK Dam Nhi?
WhatsApp Dare for Crush
Dare: Choose any number between 1 to 25 and I will send you your dare.
Answer:
Write your crush name in your status.
Will you kill anyone if you get permission? If yes, Who is that person?
Be my GF/BF for one day.
The quality you like the most in yourself?
The quality you'd like to change in yourself?
What do you like in me?
The thing you don't like in me
On your interest, the person you like to marry.
Send me your cutest picture.
Describe me in one word.
The most important person in your life?
My contact name on your phone.
The nickname you want to give me?
Things you like most in me?
Color that suits me?
Relation status you want to be with me? (No cheating)
The thing you like most about my character?
The thing you hate in my attitude?
Which type of dresses suits me most?
Dedicate a song to our relationship?
Rate my WhatsApp profile picture out of 100?
The first thing you notice in a person when you meet them first time.
Your Best Friend.
What is your opinion on me?
What is your crazy dream?
Hindi WhatsApp Dare Games
Dare: If you are Music Lover then tell me the name of these 10 super hit songs.
Answer:
Ye teri aankhein jhuki jhuki, Ye tera chehra khila khila.
Hum tum Ek kamre me band ho, aur chabi kho jaye.
Chandni, Tu meri chandni.
Chand taare phool aur kaliyan, tumse achcha kaun hai?
Dil cheej kya hai aap meri jaan lijiye.
4 baje gaye lekin part abhi baki hai.
Dekha hai pahli baar sajan ki aankhon me pyaar.
Phir haath me sharaab hai sach bolta hun main.
Laal laal hontho pe gauri kiska naam hai?
Raat ko 12 baje din nikalta hai, subah ke 6 baje shaam hoti hai.
Funny WhatsApp Quiz with Answers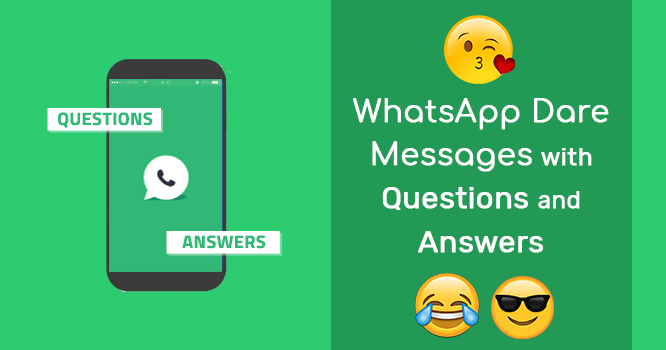 Dare: Select any one from below. I can say your life partner's character. This is going to be really fun.
11, 22, 33, 44, 55, 66, 77, 88, 99, 00
Please reply fast.
Answer:
11: Always fighting with you.
22: Always smiles.
33: Your life partner is a non-stop kisser once started kissing.
44: Every day is a honeymoon with your partner.
55: You both make a perfect couple and made for each other.
66: Always shows love and care for you.
77: Get's angry for everything.
88: Most irritating life partner. Sorry, but it is true.
99: Your life partner always wanted to spend time with you.
00: Your life partner treats you and your child in the same way. True love.
WhatsApp Romantic Game For Lovers
Dare: Select one number below and it will decide the name I'll call you from today.
1, 2, 3, 4, 5, 6, 7, 8, 9, 10, 11, 12, 13, 14, 15, 16, 17, 18, 19, 20, 21, 22.
Reply fast. It is interesting. From today I'll call you with that name.
Answer:
1. Babe
2. Gdhu
3. My Darling
4. My Dear
5. Pappu
6. Dhakkan
7. Idiot
8. My Jaanu
9. My heartbeat
10. Lovely
11. My love
12. Mental
13. Crazy Monkey
14. Geek
15. Fat piggy
16. Beautiful
17. Stupid
18. Sweetheart
19. Tubelight
20. Donkey
21. Chipkoo
22. Sweet Honey
WhatsApp Fun and Love Games
Dare: If I will go so far from you forever, what will be your last word to me? Select our desired number from 1 to 11 and let me know about your thinking.
Answer:
1: Don't Go Please
2: God Will Be With You Always
3: I Can't Live Without You
4: I Love You, Stay Always With Me
5: Go and Die, Don't Return Again
6: Can You Live Without Me?
7: I Can Live Without you
8: Fuck Off! I Don't care
9: I Will Miss You
10: Don't Forget me
11: Take Care
Conclusion
These are the most popular and latest WhatsApp dare games. You can choose any of the above games and start sending them to your friends and wait for their answer. You will surely have fun after seeing their answers. Who knows, this might reveal some secret of your loved ones that you might not know before. Some of these games you already played before, and it can bring your good old memories.
With the popularity of WhatsApp messenger, WhatsApp daring games are trending these days. People search for different types of daring games on the internet. So, we have some of the best WhatsApp daring games you will never find anywhere else.
Hope you like these WhatsApp daring games and find them interesting to play with your friends. We add many new WhatsApp dare questions over the time. So, keep visiting to check, the latest addition to our dare questions and answers. If you like them, please share with your friends. Thank you.