Paytm SetWet Offer: Free Paytm Cash on SetWet Gel Pack
Paytm is back with SetWet Gel Offer, another 100% Money Back Offer. Paytm and Setwet is now offering Rs 10 Paytm Cash on purchase of Set Wet Hair Gel Worth Rs 10. To get free paytm cash from Paytm Setwet offer, follow the steps given below.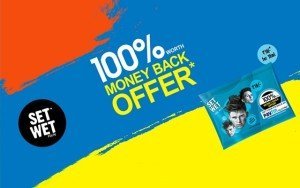 How To Get Rs 10 Paytm Cash in Paytm SetWet Offer
Buy Set Wet Hair Gel Pack worth Rs 10. (Paytm Cash Offer should be mentioned)
Find the Cash Code inside Set Wet Hair Gel 10ml Pack.
Login or Create a new account
Enter the cash code in the Code Redemption Page
Rs 10 will be added to your Paytm Wallet.
You can use your Paytm Wallet balance for recharging your mobile or shopping.
Terms and Conditions
Participation in this Promotion namely, Paytm Set Wet ("Offer") is purely voluntary and optional.
This Offer is not valid in conjunction with any other Offer.
Products also available without this Offer.
By participating in this Offer, each participant is deemed to have accepted these terms and conditions.
This Offer is valid in India from Dec 1 2015 to 31st Mar 2016('Offer Period') on purchase of Set Wet packs referred to as "Products" and on limited stocks only
After purchasing the Products, the participant is to look for the Coupon code ("Code") printed inside the pack. After retrieving this Code, the participant can participate in the Offer in the following manner and avail Paytm Cash.
The cash earned this way is stored in the Paytm wallet and is used to purchase products/do recharges on Paytm website only. No cash would be given in lieu of Paytm cash.
On successful application of the Code a onetime addition of respective denomination (Rs 10) to user's Paytm wallet will be added.
Each code is unique and for onetime use only.
A single user can avail the offer 3 times.
Searched Tags: SetWet Paytm Offer, Paytm SetWet Offer, Set Wet Paytm Offer, Paytm Set Wet Offer, SetWet Free Paytm Cash Code